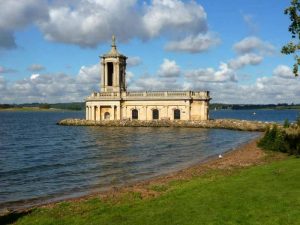 The Church at Empingham on Rutland Water
At our recent meeting it was decided that only Cromer and Bourton-on-the-Water will be booked meets.  All other meets will be on a first come, first served basis. If you wish to book for CROMER or BOURTON please fill in the Contact Form on this site or email glennyspotter@btinternet.com with all your details.  We will require your name, membership number, date of expiry of card, vehicle registration number, dates and number of nights which you want to stay on the sites.
Our Stewards will require you to pay by cash and put this into a transparent plastic bag, together with all your contact details for the purposes of Track and Trace required by the government.
If you are unable to email, please ring 0794 1776868
Please be considerate to our Stewards who are volunteering in these difficult times.  Thank you.
July 1st to July 18th 2021- Lyndon Top, Rutland Water LE15 8RN
An old favourite site, where you can just relax and enjoy the view or you can cycle or walk round the26 miles of the Reservoir.
Site Fees:  £10.50/pun  Extra adults £2.50/pun.
See their website at https://www.lyndontop.com/about.aspx
———————————————————————————————
July 24th to August 13th 2021- Bourton on the Water Football Club – Booked Meet
A site nestled in the Cotswolds.  One not to be missed.
For more information see  https://www.bourtoninfo.com
Site fees:  £15.00/pun  Extra adults:  £2.50
---
July 29th to August 22nd 2021 – Cromer Academy, Cromer, NR27OE – Booked Meet
Northants DA will again be at Cromer High School
This is a great site within walking distance of the beach and shops.
We are not sure yet if we have use of the toilets and showers.
See the Cromer website at https://www.thisiscromer.co.uk/
Sites Fees: £13.00/pun Extra Adults: £2.50
—————————————————————————————————————————————
NORTHANTS DA NOW HAVE A FACEBOOK PAGE
JOIN THE GROUP
J